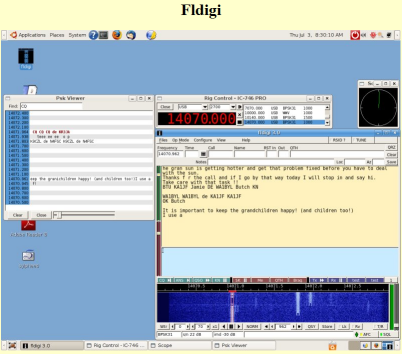 FLDIGI is superb FREE digital software for use on
all windows and Linux platforms.
It really is worth checking out, as it is easy to use.
( Download the correct software for your system )

DX MAPS & INFORMATION:
DXCC Information on all current Entities
by Darek SP6NVK
With over 3,000 Pictures and 1,100 Maps
This is a superb (Free) reference point for each DXCC Country
VINTAGE RADIO RESTORATION INFORMATION:
VINTAGE RADIO & ELECTRONICS
This excellent site is run by Maurice Woodhead
and is definitely worth a visit RADIO INFORMATION:
DX'ers PHRASE BOOK
Common DX Phrases in 400 Languages!
DX HOLIDAYS.COM
Find Accommodation for your DX Holiday or Expedition
DXZONE.COM
(Top Notch Radio Information pages - well worth a browse around).
INTERNATIONAL AMATEUR RADIO UNION - Main page
( Very useful details of all the member Societies ).
INTERNATIONAL AMATEUR RADIO UNION - QSL Bureau QRA List.
( Check the address for a Countries QSL Bureau ).
K4UTE - QSL MANAGERS SEARCH FACILITY

GOOD SOFTWARE and UPDATES Etc. :
PORT & SHIELDS PROBE
( Test your Computer ports and shields for hackers ).
COMPLETELY FREE SOFTWARE
( All sorts of good software and utilities ).

FREE WEB STUFF - GRAPHICS, ICONS, SCRIPTS Etc:

A + B + C GIANT for WEB GRAPHICS
( Backgrounds, fancy fonts, grahics and lots more ).
The FREE SITE - The Web's best FREEBIES
( A very good site for Web Page builders ).
FREE GIFTS and ANIMATIONS
( Another very good site for Web Page builders ).

SEARCH ENGINES Etc. :
Ask Jeeves Search Engine
( I use this one ).
Google Search Engine
( Searches many search sites in one hit ).

WORLD WEATHER, NASA and other MISCELLANEOUS LINKS :




NASA - INTERACTIVE GLOBAL WEATHER SATELLITE IMAGERY


( Live Satellite pictures for anywhere in the world ).

NASA - SPACE SCIENCE NEWS Etc.
( Allow yourself a week to explore this page ).

CURRENT U.K. & GLOBAL WEATHER FORCASTS Etc.





click above to get my email details
If you would like a USEFUL LINK added to this page
or if a Link is no longer working,

Please send me an E-mail with the Details. Thank You!.